Clan is used in a lot of interactional and linguistic research. When transcribing or working with transcriptions of spoken interaction I can think of no better tool. While, Clan also can be used for annotating bodily actions other than talk, I find that there are other tools better suited for that purpose. One of those tools is Elan, which uses a more visual approach to annotation. For some time now it has been possible to convert files to and from Clan and Elan. In this short tutorial I will show you how.

From Clan to Elan
Converting from Clan to Elan you can use either Clan or Elan. From Elan you need to click on File, then Import, then CHAT File. This will take you to a file prompt where you can browse to the Clan file you want to open up in Elan: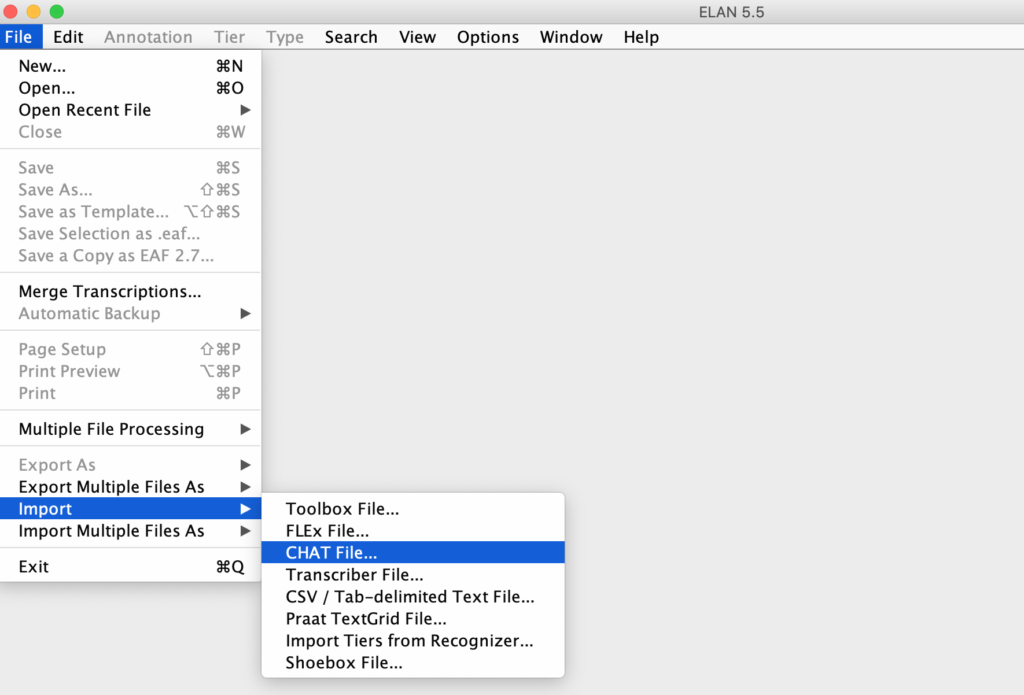 You can also use Clan to make the conversion. This is especially useful when you need to convert several files at once. What you need to do here is to go to the commands window, set the working directory to where your Clan transcript is located and type chat2elan. This tells Clan that you're running the program chat2elan. The chat2elan program takes two arguments: format of the video/audio file and filename.
chat2elan +eFORMAT FILENAME.cha
For example, if your video file is in quicktime format you would type:
chat2elan +emov
But if instead it's an mp4 file you would type:
chat2elan +emp4
For the second argument, the file type you enter the name of the file you wish to convert, eg. P1.cha as in the example below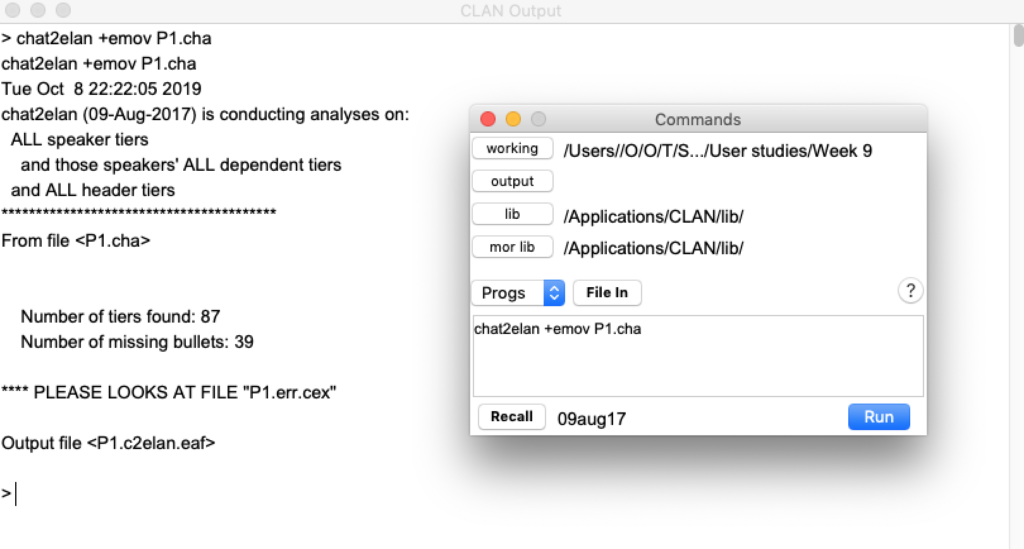 Thus, the entire command for a Clan file called P1.cha with an attached video file in Quicktime format the command would be:
chat2elan +emov P1.cha
Now, if you're in the situation that you have actually a whole collection of Clan files that you want to convert to Elan, chat2elan can do that as well. You simply have to replace the filename with an asterisk:
chat2elan +emov *.cha
This operation will convert all Clan files in the working directory to Elan's EAF format. Regardless of how you convert the files you will end of with an file that you can open up in Elan. You'll note that each tiers in Clan are now also represented as tiers in Elan.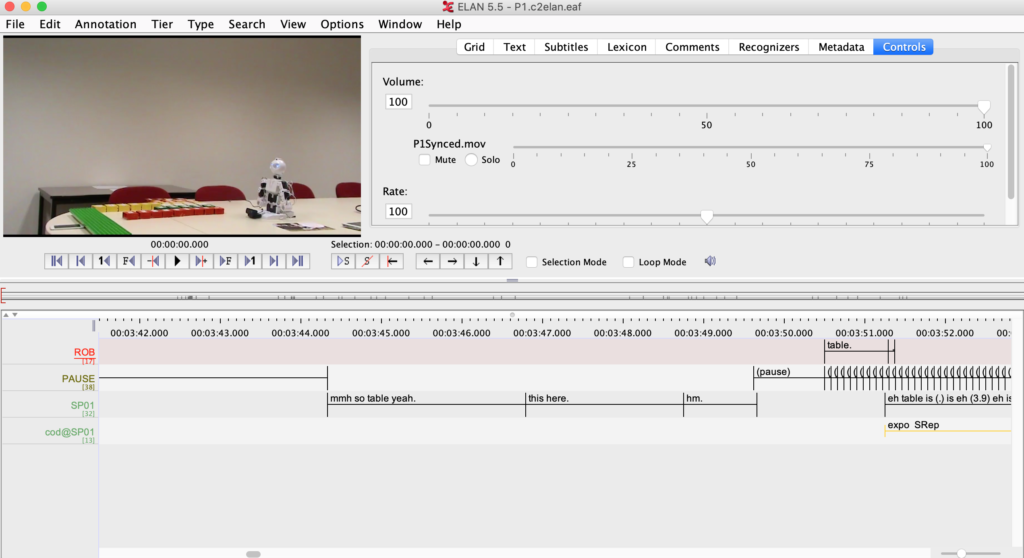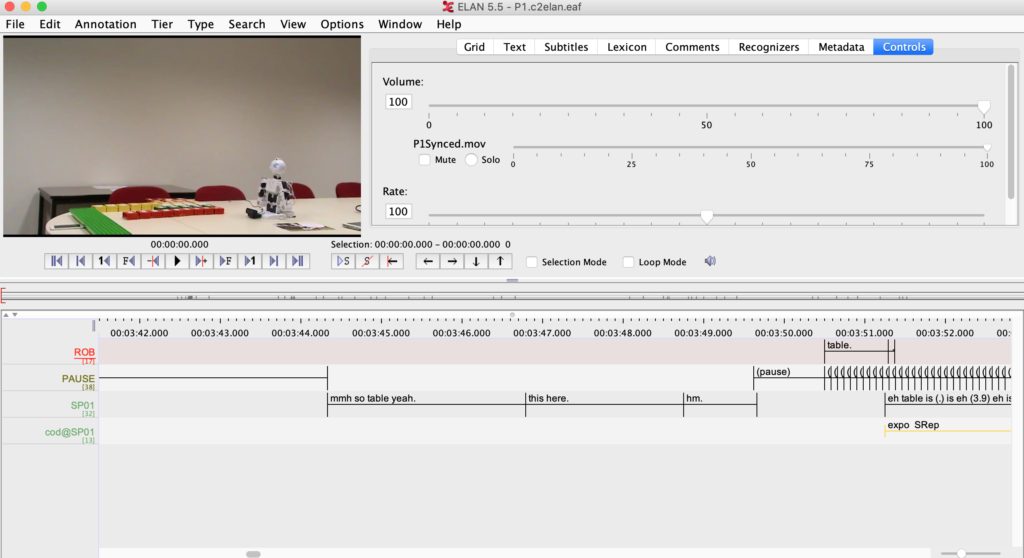 Elan to Clan
This conversion also work from Elan to Clan. Again, if we start from Elan go to File, Export As and then Chat file: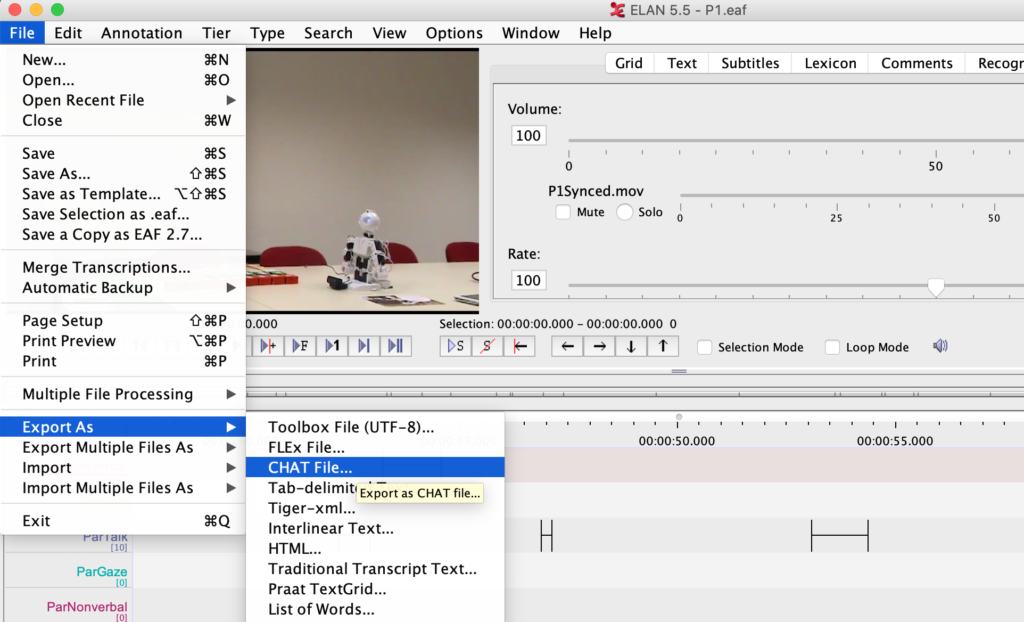 This will take you to another dialog, in which you will need to define details for each of the tiers, required by the Clan format: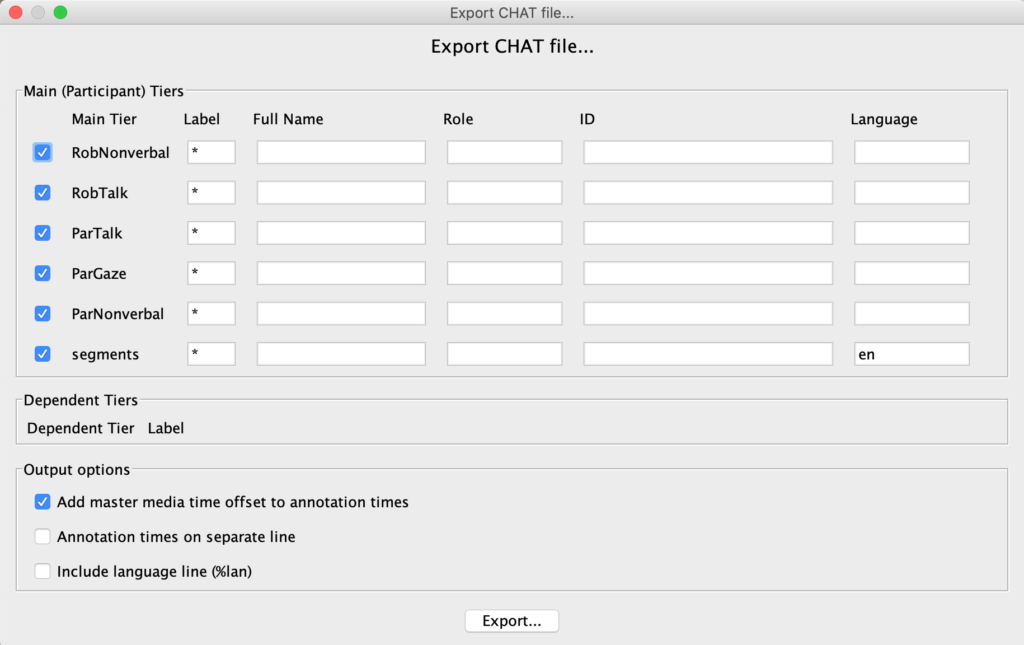 Upon clicking Export… you save the file, which can now be opened in Clan. As before you can do a similar operation in Clan by running the elan2chat program from the commands window. However, for the conversion to work properly you will need to rename tiers in Elan before you attempt the conversion to Clan. For example independent tier names should only be three letters long, be capitalized, and have an asterisk as a prefix (e.g. *ROB). Dependent tiers should be also be renamed accordingly. Thus, a tier describing (*ROB's) gaze could be renamed to gze@ROB.
Once that is done you a free to run the elan2chat program from the commands windows in Clan. elan2chat follows the same format as chat2elan when converting files:
elan2chat +eFORMAT FILENAME.eaf
So if we were to reuse the example from earlier the complete command would be:
elan2chat +emov P1.eaf
It should be clear to most that conversions are easiest to deal with when transcription start as Clan files, as we then do no need to worry about meeting Clan's requirements for tier names. So, if you know in advance that you will need Clan it is a good idea to set up a workflow where you start your file and set up all necessary tiers in Clan and then convert to Elan. Setting up your workflow in this manner also mean you can relatively easy move your transcript back and forth between Clan and Elan, without the hassle of renaming tiers as described above.
Other Conversions from Clan
Conversion between Clan and other platforms are also possible (although not covered in detail here). These conversions are all accessible from Clan's command windows.
The Video Annotation Research Tool chat2anvil / anvil2chat
Praat chat2praat / praat2chat
SRT (Subtitle format) chat2srt / srt2chat
Text format (to use with for example AntConc) chat2text / text2chat
EXMARaLDA chat2xmar / xmar2chat